Jose
here with some box office news.
Reuters
is reporting that Michael Jackson's
This Is It
has broken advance ticket records all over the world.
The documentary/concert film spans the rehearsals of Jackson's eponymous "comeback" that would've taken place in London before the entertainer's sudden death.
In cities like Los Angeles and New York, fans waited outside in line for days before the tickets went on sale yesterday morning. In Tokyo, the film sold $1 million in advance tickets. With the undying passion of Jackson fans could this eventually become the highest grossing documentary of all time? This genre hasn't been particularly lucky in the money making department.
The highest grossing documentaries stand as follows:
1.
Fahrenheit
9/11
(Michael Moore)
$119,194,771
2.
March of the Penguins
$77,437,223
3.
Earth
$32,011,576
4.
Sicko
(Michael Moore)
$24,540,079
5.
An Inconvenient Truth
$24,146,161
6.
Bowling for Columbine
(Michael Moore)
$21,576,018
7.
Madonna: Truth or Dare
$15,012,935
8.
Religulous
$13,011,160
9.
Winged Migration
$11,689,053
10.
Super Size Me
$11,536,423

(numbers courtesy of Box Office Mojo)
Most of the films in the list deal with sociopolitical or nature subjects. The only film dealing with a celebrity (the Queen of Pop ironically) was released almost two decades ago, so it's not easy to predict how the box office will adjust to Jackson.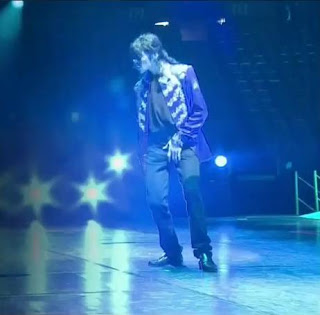 His death is the biggest news event in the world so far this year (several media outlets discussed how much was too much with more serious issues affecting the world) and Sony Pictures -- who bought the footage days after his death and rushed to deliver the movie -- are pushing it to become
the
worldwide movie event.
But honestly, how much is too much in this case? Where does a film studio cross the line between money-making thirst and appreciation for the audiences? (an album with the music that "inspired" the movie is already on its way out with
original album masters of some of Michael's biggest hits arranged in the same sequence as they appear in the film
...) They can argue that they were trying to make it up to all the fans who didn't get to see their idol live, but for others this might just seem a distasteful move to bank in on a tragedy.
And how will movie critics react to the film? As of today-at this hour at least-there are no official reviews for the film on the web and what will happen if when they come out they're not positive? Does the sensitivity of the subject matter affect how a movie is reviewed by professionals? This is one movie to keep our eyes on, as it's sure to give lots more to talk about. Have you already bought tickets?
*