Jose
here with some Foreign Language Film Oscar analysis.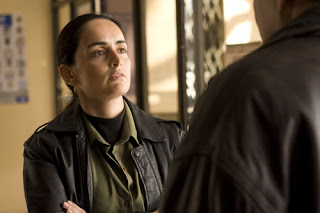 The second to last time Mexico was nominated for a Best Foreign Language Film Oscar, the movie was made by respected director Carlos Carrera. The film was
The Crime of Father Amaro
, which arguably banked in on the crush the whole world had developed with rising star Gael García Bernal and of course the controversy factor.
Mexico is counting on Carrera to get them their eighth nomination in the category with his newest film
Backyard
a thriller which deals with the murders of women in the bordertown of Ciudad Juárez. The "muertas of Juárez" as they've become known, have been a pressing issue for the local authorities for more than a decade now. Very little has been done to solve what amounts to more than 500 crimes (including murders and disappearances).
The film is preachy and sloppy (read my review
here
) but a film's quality has never been something that Academy members minded much, especially in the Foreign Language category...
With that in mind let's see the pros and cons the movie has of getting in:
Pros
Jimmy Smits (pictured above) has a small role as a corrupt Texan; Academy members might like seeing a recognizable face in a foreign movie (he even speaks Spanish).
The screenplay borrows elements from films like

Maria Full of Grace

,

Traffic

and

Babel

, all of which fared very well with the Academy.
It is based on true events (you can never go wrong with those...).
Goodwill from

Amaro

, voters will automatically assume it deserves a nomination.

The film's star Ana de la Reguera gives a deglam performance that will have them screaming Charlize Theron and Hilary Swank.
The movie feels important and will make Academy members feel guilty if they don't feel it's important.
Cons
The film is just not very good at all, it tries to fit into several genres only to end like a pastiche of social causes, TV thriller and

telenovela

.
The issue, sadly, hasn't been well received by the film world (does anyone remember

Bordertown

with J. Lo and Antonio Banderas? Yeah, I thought so) and even the movie stresses out about how it isn't even seen as a real issue by some groups.
Reviews have been far from stellar in its home country.
The subject will be too gruesome for some voters who often go for orphan kids, WWII redemption dramas and light comedic fare in this category.
Has anyone else seen it? If so, how do you think it will fare up against contenders from eighty other countries? The deadline for Foreign Language Film submissions is tomorrow.