How long have you been visiting The Film Experience? Consider yourself an expert on film or the proprietor of this site? Ready to prove it?
While he's off working on personal matters, I thought it would be fun to test everyone's movie-related "NathanielQ."
1. Nathaniel hails from:
a. Kansas
b. A closed-door meeting between Robert Wise, Jerome Robbins and Natalie Wood. They were discussing a
West Side Story
sequel, but astutely realized Nat would bring more joy to the world
c. Michigan
d. A random thought that Julianne Moore had on a bright spring day during her childhood
2. Actressexuality is:
a. A tendency to sleep with actresses
b. Considered an addiction
c. A mild skin condition that can be cleared up with calamine lotion
d. Someone with a female actress preference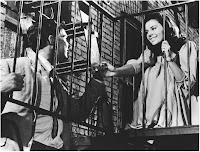 3. Nathaniel's favorite movie of all time is:
a.
Moulin Rouge!
b.
West Side Story
c.
Shrek
d.
Belle du Jour
4. "She who must not be named" is:
a. The villain from "Harry Potter"
b. Renee Zellweger
c. Hilary Swank
d. Too terrible to mention here
5. Nathaniel is sometimes mistaken for:
a. Lance Bass
b. Channing Tatum
c. Anthony Michael Hall
d. K-Fed
Extra Credit:
Nathaniel is given the opportunity to interview and have dinner with Michelle Pfieffer, Meryl Streep and Julianne Moore. He'll have plenty of time to chat and ask questions, but there's a catch: Beforehand he must spend 3 months on a deserted island with no movies except either the Hilary Swank or Renee Zellweger collection.
What would he do?
What would
you
do?