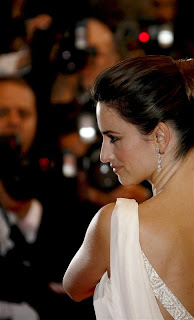 Jose
here.
There's a rumor circling the web and European media stating that Penélope Cruz has been cast in Lars von Trier's new film
Melancholia
.
If this is true then the Oscar winning actress will be battling some heavy personal issues while Lars destroys our planet.
The film will center on the impending collision of Earth with planet Melancholia (the man doesn't even try to conceal how much he loves Tarkovsky does he?).
When the movie was announced last October, the only thing Lars told people to expect were "no more happy endings".
Lars isn't really a filmmaker who cares what others think of him but I wonder how will Cruz fare out in all of this.
I love the road she's taking recently: Woody Allen, an Oscar, an Almodóvar film, a musical and now von Trier-her choices are very Nicole Kidman if you ask me-and might just continue to establish her presence as one of our greatest actresses.
Until the news are confirmed, or denied, we can drool (in my case), complain or speculate about how Pe and Lars will do together. Do you think she'll be as good as Emily, Bjork, Bryce, Charlotte and Nicole?