Jose
here with some award news.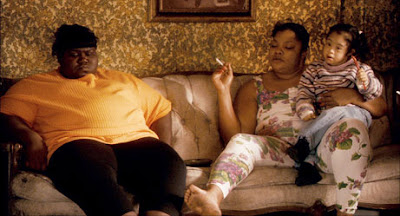 Continuing to establish itself as a front runner in the awards race,
Precious: Based on the novel 'Push' by Sapphire
, has been chosen by the Producers Guild of America to receive its prestigious Stanley Kramer Award for
illuminating provocative social issues in an accessible and elevating fashion
.
This award not only confirms the movie will be one of the ten chosen by the PGA for its Producer of the Year award, but bodes well for its chances of getting even more Oscar attention.
The Academy simply loves social issues (remember 2005?) and Kramer (who directed and produced
Inherit the Wind
and
Guess Who's Coming to Dinner
among others) was an icon in this aspect, even if the quality of the films he made didn't amount to much artistically.
Stanley's films always talked about things we

wanted to ignore. He taught us so much about ourselves and made us think about our values and purpose

[and]

'Precious' is truly a film that embraces this philosophy
said Kramer's widow Karen.
This statement might also help appease those who fear old, conservative Academy members will refuse to watch the movie. If their colleague Stanley would've endorsed this, they might as well give it a chance.
Previous winners of the Stanley Kramer Award include:
2008-
Milk
(Won 2 Oscars, nominated for Best Picture)
2007-
The Great Debaters
(Golden Globe nominee for Best Picture)
2006-
An Inconvenient Truth
(Won 2 Oscars including Best Documentary)
2005-
Good Night and Good Luck
(Nominated for Best Picture Oscar)
2004-
Hotel Rwanda
(Nominated for 3 Oscars including Best Actor)
2003-
In America
(Nominated for 3 Oscars including Best Actress)
2002-
Antwone Fisher
2001-
I Am Sam
(Nominated for Best Actor Oscar)
So besides having a thing for Sean Penn and Denzel Washington, the Stanley Kramer award seems to be quite in tune with Oscar's taste huh?