Jose
here with the Monday Monologue.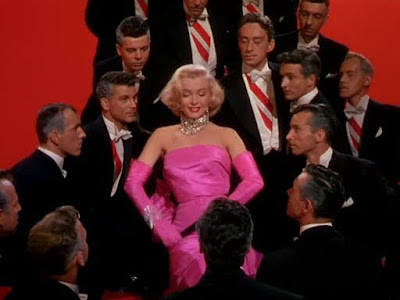 When thinking of Howard Hawks'
Gentlemen Prefer Blondes
, the first image that comes to everyone's mind will be that of Marilyn Monroe performing
Diamonds Are a Girl's Best Friend
.
People who haven't seen the film know it because it's been reenacted by people like Nicole Kidman, Geri Halliwell, Kylie Minogue and was the base of Madonna's entire
Material Girl
video. And how could they not homage it when the performance's so damn iconic?
Marilyn knew what it meant to be a showstopper, but within the movie we also find a hidden gem of sorts in Jane Russell's performance. She plays sidekick to Monroe and while it's the blond bombshell getting all the attention, Ms. Rusell knew how to leave a mark of her own.
In what appears to be an inconspicuous number halfway throughout the film- after she's been dealing with lack of luck in love-she enters a gym in a cruise ship where surrounded by a vast number of male specimens she sends her own S.O.S
First she reveals her shortcomings
I can't play tennis,
My golf's a menace
I just can't do the Australian crawl
And I'm no better at volleyball
Then her plea
Ain't there anyone here for love?
She continues strutting among the half naked men as she reveals
I'm apathetic and non athletic
Can't keep up in a marathon
I need some shoulder to lean upon
and a couple of arms to hold me
Ain't there anyone here for love?
What's remarkable about this scene is how Russell plays it like if she's having a ball, while the love-as-a-sport lyrics could literally break your heart.
This kind of performance, sad lyrics-happy tune, would become a standard for artists like Minogue, who delivers happy electropop with lyrics that even heavy rock artists find depressing
(the Australian superstar has also paid homage to this scene in her tours).
But back to Russell, it's only until the end of the song where she has a change of heart, stops underrating herself and actually demands things out of life.
I like big muscles and red corpuscles
I like a beautiful hunk-o-man
The scene ends with Russell finally taking the plunge, quite literally, as she falls into a pool (in what seems like a painful stunt) where all the men have dived. Leaving us with a promise she more than fulfills in the rest of the film.