Jose
here.
Was Dorothy (Judy Garland) lying to us when she told us there's no place like home in
The Wizard of Oz
?
Judging from the way movie people are flocking back to Oz, it seems the little girl from Kansas might've missed something in her first trip.
As of today there are six, count them, films in development that have something to do with Frank L. Baum's timeless classic or the Victor Fleming film adaptation and that's not even including the much awaited stage to screen translation of Broadway blockbuster
Wicked
.
Everyone wants a piece of Oz and projects in development have attracted the attention of people like Drew Barrymore, Sean Astin and even the guy who made
Deliverance
.
But before we surrender to confusion let's go through each of the projects.
The Wonderful Wizard of Oz
Set for release in 2011, this CGI adaptation of the original book will mark director John Boorman's first foray into animation.
Call me morbid but I'm really dying to see what the man who made
The Exorcist II
brings to Oz. Boorman has a great eye for set pieces and his interest in fantasy is notable (to a good effect in
Excalibur
and to WTF in
Zardoz
, which coincidentally got its title from the wizard) and besides what is
Deliverance
if not a violent, testosterone driven interpretation of the Oz mythology? Sans flying monkeys of course.
Dark Oz
Based on a
comic book
the film is set to be directed by Pearry Teo and will star Pras Micheal of The Fugees.
While this one sounds interesting to say the least, I was left more intrigued by one of the comic book tie-ins called
Oz Squad
which has Dorothy, the Scarecrow, the Tin Man and the Cowardly Lion form a secret organization appropriately named the "Gale Force" created to protect Emerald City.
I'm usually a purist when it comes to things like these but the fact that the comic book outraged Baum scholars and has only now resurfaced as a groundbreaking work makes it sound quite enticing.
My only objection? An element in the plot called the Tik-Tok, which would make a Ke$ha appearance almost inevitable.
Surrender Dorothy
The lovely Drew Barrymore (left in all her emerald colored glory from
Whip It
) is set to direct this sequel from a screenplay by Zach Helm (
Stranger Than Fiction
). In the story, Dorothy's great great granddaughter must learn to use the ruby slippers to prevent the Wicked Witch of the West from taking over Oz.
Originally Drew was set to play Dorothy but with the screenplay in development limbo for almost a decade, the now obviously older actress might just want to stick to behind the camera duties.

Dorothy of Oz
Another CGI version, this one is based on a book by Baum's great grandson Roger S. Baum and is directed by Dan St. Pierre (who served as art director for Disney's
Tarzan
).
In the plot Dorothy (rumored to be voiced by Lea Michele) is sent back to Oz right after her first trip where she meets a man made out of marshmallows and a china doll.
This one is also set for release in 2011.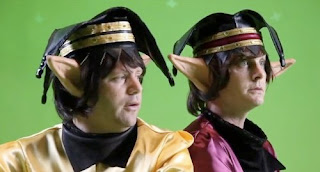 The Witches of Oz
The official synopsis reads:
The Witches of Oz follows the exploits of the grown Dorothy Gale, now a successful children's book author, as she moves from Kansas to present day New York City. Dorothy quickly learns that her popular books are based on repressed
childhood memories, and that the wonders of Oz are very, very real. When the Wicked Witch of the West shows up in Times Square, Dorothy must find the inner courage to stop her.
Sean Astin, Ethan Embry and Lance Henriksen star.
For clips, photo source and more information about this film click
here
.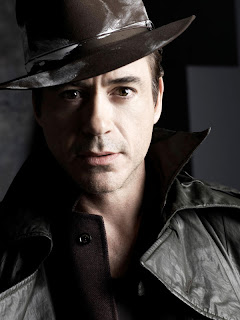 The Great Powerful
If you've just had enough of Dorothy, this might be the film for you.
Instead of focusing on the heroine this one is more interested in the man behind the curtain.
This film will tell the tale of the wizard's life and how he ended in Oz. Robert Downey Jr. is set to play him and when you read sources describing the wiz as a man "leading a life of charlatanry" who sounds more appropriate to play the part?
The film might be directed by Adam Shankman (hmmm) or Sam Mendes (yay and hmmm).
And yes, no news on a big screen adaptation of
Wicked
yet (other than the one already being filmed inside my head with Anne Hathaway and Reese Witherspoon in the lead roles).
So what's your take on all this? Are you faithful to Judy Garland or are you willing to see other Dorothys? Do you think there's something as too much
Oz
or is this making you salivate?