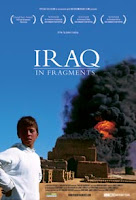 There's an "
open letter
" over at Green Cine from the producer of
Iraq in Fragments
, one of last year's Oscar-nominated documentaries. It's a heartfelt letter that's upset about Jerry Seinfeld's presentation on Oscar night --his humor is deemed disrespectful. The larger subject is general treatment of documentary films. Though I can't find any supporting documentation, apparently the Academy plans to significantly expand the distribution requirements for documentary features to qualify.
Here's how it works currently. Regular movies must get a theatrical one week release in LA during the calendar year to be eligible. Documentary Features have different rules. I was going to quote it but it's lengthy so let me remove the legalese. Basically it boils down to two things.
To be eligible a documentary feature must have a regular one week theatrical release in theaters in

either

NYC

or

LA to qualify. (The eligibility year runs from September to August instead of January to December)

At some point before the nominations are announced, the same documentary feature must have a "multi-city" roll out which means it must play for at least two consecutive days in 8 more cities (Festivals don't count)
So, if I'm understanding the letter correctly ,the proposed Academy plans for the new ruling mean that documentary films will now have to open (for at least two days) in 14 cities (in addition to either LA or NYC) which will prove more difficult obviously since documentaries often have trouble funding extensive rollouts --especially without the guarantee of an Oscar nomination which theoretically helps to spark public interest. Will an expansion of these requirements merely shift financial planning for documentaries or will it mean only easier sold documentaries (like
Shut Up & Sing
and
An Inconvenient Truth
) qualify in the future?