You have to love the Ziegfeld Theater in Manhattan. Check out
their spring lineup
. It's fun that they're starting their spring with musicals since there's no better place to see a showtune filled movie in NYC. There's always a ton of energy in the room and it's a massive space that often sells out... at least for the special events or opening weekends. I can't even begin to describe the elation of seeing
Moulin Rouge!
on opening night there or the oddity of standing in a huge line to see Barbra Streisand in a
Funny Girl
revival a few years back. Huge lines... for an old movie. I love this city. Here's a photo which probably doesn't give you enough sense of how big the space is. Big screen. Lots of seats. The way it should be.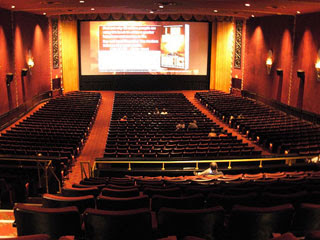 The Ziegfeld is also where I had my one and only real life sighting of Michelle Pfeiffer (at the premiere of
The Story of Us
the year I moved to the city) so you know it's holy ground to me.
*